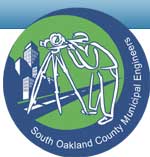 SOCME News:

Mission Statement

The South Oakland County Municipal Engineers (SOCME) is an all-volunteer organization of municipal engineers, engineering consultants and utility companies. Monthly lunch meetings are held October through May with a golf outing in September. SOCME has held organized meetings since 1985.

SOCME Purpose

The purpose of the SOCME organization is to provide a forum where colleagues may interact and engage in informal communication on relevant topics of interest and for mutual assistance and support on shared goals related to municipal engineering in the southeast Oakland County area.

SOCME Membership

There are no restrictions on who may attend a SOCME luncheon, nor is there a Membership fee to join the Society. If you are interested in attending the next SOCME luncheon, click here to RSVP.